<!!--INSERT TEXT BELOW--!!>



CLOTHING DRIVE

Wednesday, November 13, 2019

9 to 11 am
180 Elmore Avenue
Hamilton, NJ 08619

Men, Women and Children's clothing jackets, shoes, purses, bags, belts bed and bath linens,
blankets, quilts, sheets, towels etc. stuffed animals
Bicycles and strollers

NO pillows, books, toys, household items, furniture or appliances.

Donations made to B&B Management Co.

Can't drop off Wednesday morning? Bring to our meeting in October or November.
Contact Suzanne 609-587-9593 for other arrangements.

Thank you for your support!




Shop At Amazon! By clicking here which will take you to Amazon's website, the club will get credit for a certain percentage of your purchase and it will not add anything to the price of your purchase!


Volunteers needed for Trentoniana Room Project held the first Saturday of every month at 10am at the Trenton Library at 120 Academy Road, Trenton, NJ. If you are interested in helping out for a couple of hours on a Saturday, please email Suzanne Chludzinski at President@cjgcnj.com so you can be added to the email distribution list for the details.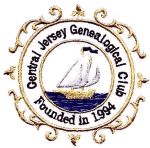 The Central Jersey Genealogical Club [CJGC] was founded in 1994 after attendees at a library genealogy class decided they could help each other and meet new genealogy hobbyists if they organized and met regularly.

Central Jersey is where we live. Our interests are worldwide. The Central Jersey Genealogical Club is open to all those interested in genealogy - beginner or experienced.

Individuals who wish to be a member may do so by filling out a membership application and submit the necessary dues of $25 per year, or $40 per family. Annual membership shall run January through December. Members receive our newsletter and speaker handouts, add the surnames they are researching to our surname list and they will vote on issues and decisions of the club.

Our goals are to add to local community resources, and membership education. Each meeting features a speaker with advanced knowledge of the topic. Our Club publishes a newsletter to alert members to what is new and what is happening in our area.

The Club has a link page called Diggin' for Roots to aid in your research.

Click here to check it out.
CJGC is a member of The Federation of Genealogical Societies and The National Genealogical Society.



<!!--INSERT TEXT BELOW--!!>