<!!--INSERT TEXT BELOW--!!>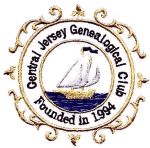 The Central Jersey Genealogical Club [CJGC] was founded in 1994 after attendees at a library genealogy class decided they could help each other and meet new genealogy hobbyists if they organized and met regularly.

Central Jersey is where we live. Our interests are worldwide. The Central Jersey Genealogical Club is open to all those interested in genealogy - beginner or experienced.

Individuals who wish to be a member may do so by filling out a membership application and submit the necessary dues of $25 per year, or $40 per family. Annual membership shall run January through December. Members receive our newsletter and speaker handouts, add the surnames they are researching to our surname list and they will vote on issues and decisions of the club.

Our goals are to add to local community resources, and membership education. Each meeting features a speaker with advanced knowledge of the topic. Our Club publishes a newsletter to alert members to what is new and what is happening in our area.

The Club has a link page called Diggin' for Roots to aid in your research.

Click here to check it out.
CJGC is a member of The Federation of Genealogical Societies and The National Genealogical Society.



<!!--INSERT TEXT BELOW--!!>